Slim. Scandinavian. Attractive.
With its pure, inviting design Silhouet fits beautifully in the kitchens and bathrooms of today as well as tomorrow. For the bathroom sink, Silhouet is available in three different heights to ensure you can also use it with a tall, tabletop mounted vessel sink. The stylish Silhouet shower system features a showerhead that due to its ultra slim design appears to hover for an even more sophisticated look. Silhouet is the essence of timeless Scandinavian design and outstanding Damixa quality.
Meet the designers: Halskov & Dalsgaard Design
The goal with Silhouet for Damixa was to create a simple, modern and appealing series of taps and mixers, Christina Halskov explains:"The tap, whether for the kitchen or the bathroom sink, is a functional object as well as a design element in modern homes. We wanted to create a series of genuine, no-nonsense taps that are a pleasure to use in everyday life and will last for a very long time, both in terms of design and product quality."
Halskov & Dalsgaard Design
Award winning Danish industrial design firm Halskov and Dalsgaard, established in 1990 by Christina Halskov and Hanne Dalsgaard, helped Damixa bring Silhouet to life. The duo's work is deeply rooted in the Danish/Scandinavian design tradition and integrates aesthetic and functional design. Halskov & Dalsgaard has designed products for, among others, Stelton, Holmegaard, IKEA, Coloplast and Sticks'n'Sushi.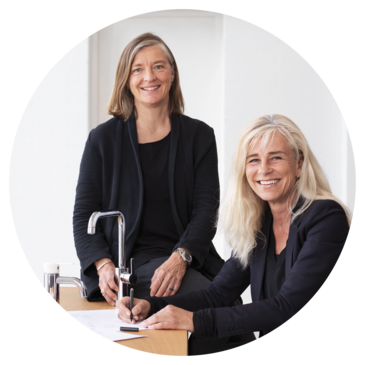 Explore our Silhouet selection